Questions?
When will you send my item?
---
We will usually send your item out on the working day after the day on which you place your order, if placed before 5pm. If this isn't going to happen for whatever reason, we will let you know as soon as possible after you place your order. Things like sickness or holiday might cause a delay. T-shirts, tanks and vests are all printed to order, so expect to wait 5-10 days for these items to arrive. We will give you are best estimate after you have placed your order.
---
Are your items in stock?
---
All shorts, skipping ropes and weighted vests are held in stock, and available for posting to you straight away. If an item is not in stock but you are able to order it through our site, it will be clearly marked on the item at the time of order as "pre-order now", "stock awaited", "stock due in x days" or something similar, so you will know before you place your order. T-shirts, tanks and singlets are all printed to order, so are not held in stock.
---
Vest fitting guide
---
1. When you get your vest, first check if the casualty drag strap is tucked away, we have usually already done this for you, if not then tuck it away.
2. Identify the quick release pull, DO NOT pull this except in an emergency. It isn't even a funny joke to play on a mate as it will take them a good ten minutes to rethread the quick release cables. The quick release allows the vest to be opened from the back very easily.
3. To open the vest to put it on your body, first on the front panel identify and open the tabs shown below.
4. Peel back the large velcro panel on the front of the vest as below.
5. Next peel back one of the waist straps, most people find it easiest to get in to the vest with just one waist strap undone.
6. If you need to adjust the vest for size, now is the time, once it's on your body, you can open both waist adjusters and adjust accordingly. You will want a close fit, but not snug. The elasticated waist adjusters will give you breathing room too. 7. Workout and enjoy, take photos and hashtag #PrideFFS #OmenVest on social media :-)
---
Taping your hands
---
Looking after your hands is super important- not only do you need them in daily life but you will also need them for your next workout. Most CrossFit movements use the hands in one way or another and it will be rare to find a hands-free workout!! We will cover hand maintenance in another post, and the various hand protectors on the market.
Some athletes use kinesio tape to protect their hands. Particularly this will apply to workouts involving a volume of pull ups, chest to bar, muscle ups, toes to bar, knees to elbows and such movements- movements on a pull up bar. Note I have yet to see hand damage from knee tucks but am sure there is someone out there who may have done it! Taping can work well and should give a level of protection for your workout. Kinesio tape is designed to stick to skin and to stretch (so it will move with your hand). Athletic tape and other non-stretch tapes don't work very well- the lack of stretch makes them come unstuck pretty quickly. The brands in the photo are RockTape (which I picked up in the US) and the d3 tape available locally from chemists and supermarkets. Grab yourself a pair of scissors while you are there and stick it in your kit bag- avoid the queue at the box's only pair of scissors! It's not cheap, so get your own and come prepared. A fellow athlete might give you some one time but don't rely on it due to the cost! Here's a step by step guide: 1. Wash and thoroughly dry your hands. Any grease, sweat, chalk or the like on your hands will stop the tape from sticking. 2. Cut two lengths of tape like this - the lengths need to be long enough to go from below your wrist to the top of your palm twice without being stretched.
3. With the tape folded in half lengthways, cut a finger hole of about 1cm in length - the whole should be as small as possible, just enough to get one finger through.
4. Then cut a small cut in from the side as shown, along the fold, to about half way between the edge of the tape and your finger hole.
5. Split the backing of the tape along the line of the small cut and peel back just clear of the end of the finger hole.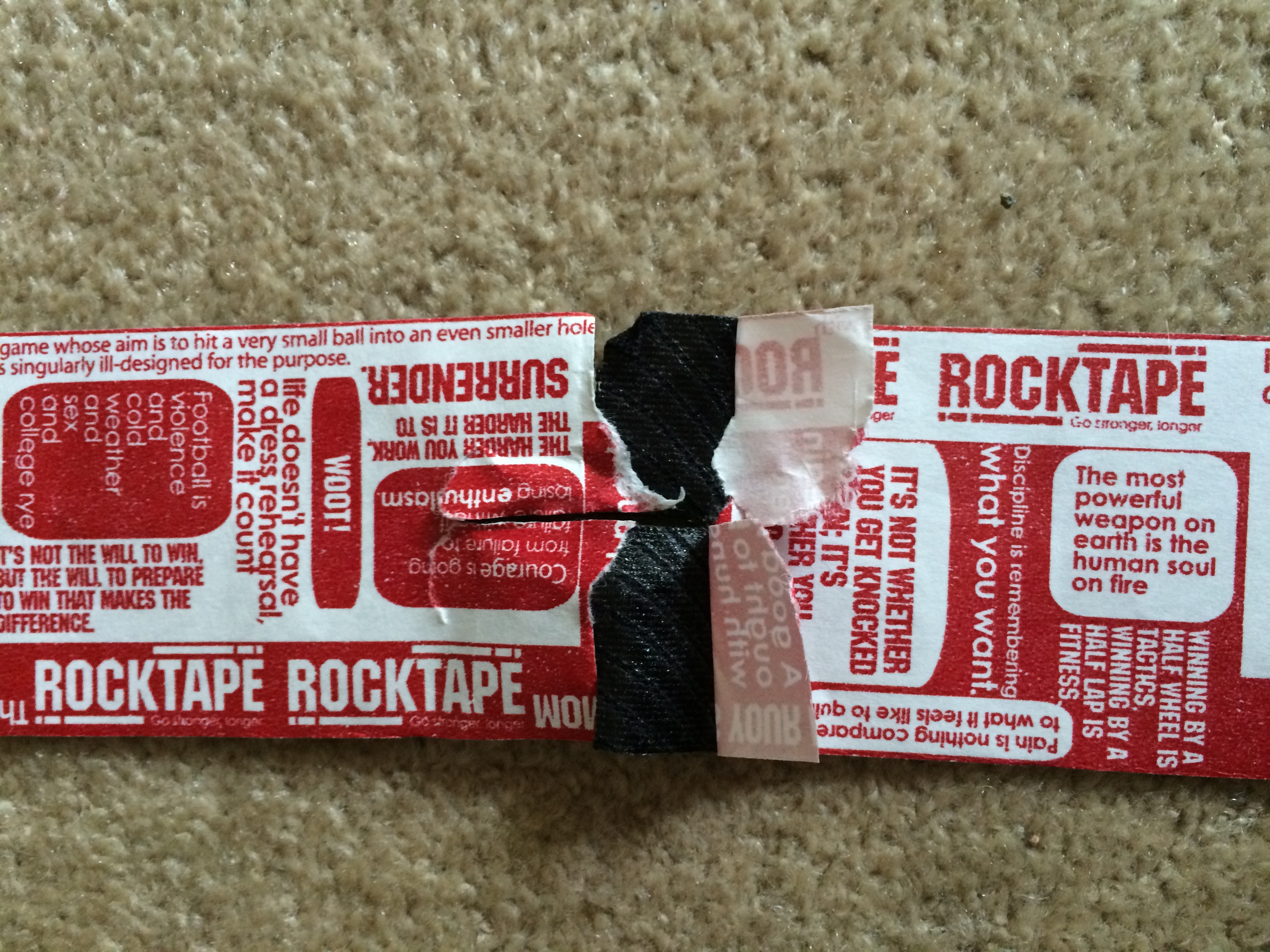 6. Pop your ring finger through the hole with the slight peel on the palm side.
7. Peel off the backing on the palm side and stick the tape to your hand starting nearest your finger, working your way back to the wrist. Make sure all tape is stuck flat and there are no creases or folds.
8. Peel off the rest of the backing and stick the tape to the back of your hand again working from your finger down to your wrist, again make sure the tape is flat with no folds.
Most people tend to tear where we have already covered. But if you want more coverage, repeat the above steps and put taping from your middle finger. Smooth the tape down with several rubs to make sure it is properly stuck down!! 9. Cut a length of tape long enough to wrap around your wrist once and overlap. Then cut this strip in half lengthways. This is the anchor to hold the tape around your wrist, to help it to stay attached when you start to sweat.
Et voila!! Good luck!!!
---
---